Emerald Lawn Sprinklers
Outdoor Lighting Specialists
Unique, ABR, and FX Lighting
Let us light up your house and make your home the centerpiece of the neighborhood
10 Year Warranty and up on all lighting fixtures
Lifetime Warranty on Unique Transformer
Unique Light Logic Wireless Available
Convert your low voltage halogen lighting to LED tomorrow and save money!
NJ Landscape Lighting Designer
The right outdoor landscape/garden lighting allows you to receive the full benefits of your costly landscaping and provides a warm welcome even after the sun goes down. We are expert NJ Landscape Lighting Designers.
ADVANTAGES
Your home will stand out in the neighborhood
You can light up your favorite shrubs or flowers
Good lighting helps avoid accidents
A well-lit yard deters prowlers and vandals
Automatic timers or motion sensors turn lights on at dusk and off at dawn which conserves energy
WiFi controls your lighting system anywhere in the world from phone or tablet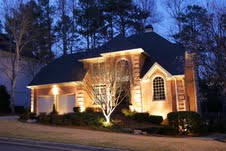 DESIGN EFFECTS
Shadowing – light object from the front and below
Accent or Spot Lighting – intense beam to highlight focal points
Silhouetting – conceal lights below and behind a tree or bush
Grazing – positioning the light close to a specific surface
Uplighting – aimed upwards creating a dramatic effect
Multi color lighting available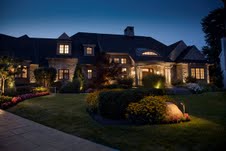 LOW VOLTAGE LIGHTING SYSTEM vs. 120 VOLT SYSTEM
Overall cost is lower
More light output per watt and energy-efficient
No risk of electrical hazard or shock
Minimum disturbance to lawn and/or garden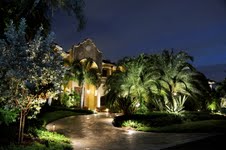 (732) 388-2248
(973) 376-7753